For many, the only time we see elite equestrian events is during the Olympic Games but a Charles Sturt University (CSU) researcher takes great interest in the unique sporting relationship between horse and rider.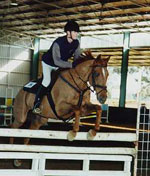 As part of her research into the partnership between horse and rider in equestrian sports, CSU psychology PhD student Ms Rachel Hogg interviewed 35 elite Australian and international riders.
Ms Hogg said her research through CSU's
School of Psychology
gives an insight into the personal qualities and personality traits required of a rider to work successfully with horses in a competitive environment.
"Preliminary findings suggest a number of key attributes may be important, with dominant themes including commitment to the sport, resilience, persistence, and patience," she said. "Riders placed great emphasis on the need for resilience in times of hardship, with many referring to difficulties as a routine part of the sport."
Mental toughness and tenacity were also identified as important aspects of being a successful equestrian competitor.
Ms Hogg said disappointment and unexpected setbacks are an inherent part of equestrian sports.
"Nowhere is this reflected more visibly than in the discipline of eventing, where it is virtually impossible to predict who will win at any given event, even if one or more horse/rider teams are clear stand-outs.
"No matter how talented or well prepared, no horse-rider duo is immune to the possibility of an unexpected injury or accident," she said.
Injuries to two horses resulted in last minute changes to the Australian equestrian team competing in the three-day event at the London Olympic Games. Hopes of a medal were dashed when two riders fell during the cross country leg of the competition and Australia finished in sixth place.
"While things may not have gone to plan for the Australian team in London, equestrianism both requires and builds determination, grit, and an instinct to push on even in the face of painful setbacks," Ms Hogg said.
"The most captivating and heroic Olympic performances of all time have not come from riders for whom everything has gone to plan, but for those for whom everything has gone wrong.
"Most notably, Gillian Rolten's gutsy Atlanta cross-country round cemented her in Australian sporting history as one of the most determined and mentally strong athletes to ever represent Australia.
"In the aftermath of the London Olympics, Shane Rose, Megan Jones who missed out on the Games, and even the unlucky Sam Griffiths and Clayton Fredricks who fell during the cross-country round, will have the opportunity to discover if they too possess the deeply ingrained sense of persistence and passion for the sport that keeps riders coming back, amidst the disappointments," said Ms Hogg.