A book outlining a vision for a new constitution for Australia will be launched by former High Court justice, the Hon.
Justice Michael Kirby
, AC CMG at Charles Sturt University (CSU) in Albury-Wodonga on Thursday 2 May.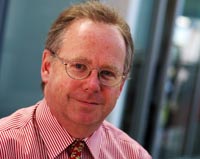 Dr Bede Harris, a constitutional law expert and Senior Lecturer in law with CSU's
School of Accounting and Finance
, has published a new book outlining his vision on how the Australian Constitution works and why it needs to be reformed.
Dr Harris' book, titled Freedom, Democracy and Accountability – A Vision for a New Australian Constitution, aims to unveil much of the mystery that surrounds the current national Constitution and its defects, which is important at a time of growing voter dissatisfaction with the political process in Australia.
"As a leading legal mind on the Australian constitution, Justice Kirby was a natural choice to launch this book," Dr Harris said.
"Mr Kirby has shown an interest in my research into the constitution, wrote the book's foreword, and agreed to launch it. I hope that the book will spark debate on the defects in the Constitution and how to remedy them."
The book addresses such issues as:
Why a Bill of Rights is needed to protect the innate dignity of each Australian;
Why democratic principles require a fairer electoral system; and,
How politicians can be made more accountable to Parliament by enhancing the powers of parliamentary committees.
"Only by changing the rules of the game can government be improved in Australia," said Dr Harris, who also examines federalism, an Australian republic, the rights of individuals in Australian courts and civics education in Australian schools.
The launch commences from 3.30pm on Thursday 2 May in The Gums Café, CSU in Albury-Wodonga, off Elizabeth Mitchel Drive, Thurgoona.