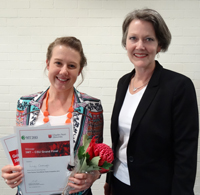 A presentation about research into mental health for young people living in remote and rural areas has won the Charles Sturt University (CSU) section of the Three Minute Thesis competition.
Ms Lindy Cavanagh, a PhD candidate in the
Faculty of Education
, won the CSU grand final in Bathurst on Tuesday 24 September with a presentation about her research,
Mental illness in rural areas: You're not 'bonkers' if you search for a brolly!
The Trans-Tasman Three-Minute Thesis (3MT) competition is open to universities in Australia, New Zealand, South-East Asia and the Pacific, and this is the first year that CSU has joined the competition. The 3MT challenges research students to tell the story of their research in three minutes or less to an audience of non-specialists, and contestants are allowed to use just one static image to accompany their presentation. Ms Cavanagh chose a metaphorical cartoon of a character under an umbrella sheltering from heavy rain.
Ms Cassily Charles, co-organiser of the competition and academic writing coordinator for higher degree research students at CSU, said, "This is a demanding task, but one which is vital for researchers, who need to be able to communicate their research ideas succinctly to people outside their disciplines, such as funding bodies and industry partners. For judges and audiences, it also provides a rare and inspiring glimpse into the range of research which is happening across disciplines and faculties in the University."
Ms Cavanagh won a $1 500 research travel grant and will now represent CSU at the Trans-Tasman 3MT competition in Sydney on Friday 18 October. Her research investigates mental health support for young people living in remote or rural areas, because more than a quarter of all young people experience mental health issues but very few of them seek help. The research has revealed some of the reasons for this, and has resulted in the production of high-quality educational resources for use in high schools.
"I am delighted to win the first 3MT grand final at Charles Sturt University," Ms Cavanagh said. "This experience has provided me with the opportunity to display my passion on this important issue and I now get to share this further."
Building on its strengths in regional and distance education, CSU this year also pioneered the first online competition heat to be offered by any university in the 3MT competition. Among the seven CSU PhD grand finalists were two overseas distance education students, Mr Bhupesh Mansukhani (New Delhi, India) and Ms Susan Laverick (Geneva, Switzerland), who proved the power of a strong pitch when they presented their 3MT theses online during heats held at several CSU campuses in recent weeks. They travelled to CSU in Bathurst to deliver their presentations yesterday in person.
"The grand final was a sparkling occasion yesterday, which judges and audience all thoroughly enjoyed," Ms Charles said.
"It was a special opportunity for us to get an insight into the amazing work our research candidates are doing. We are so proud of our higher degree by research candidates, who have shared their research stories with such passion and flair. The 3MT competition is an excellent opportunity to strengthen and display some of the special skills which researchers need, and it has also been a great contribution to our sense of community for research candidates, supervisors and colleagues across the whole university."