* CSU ranked first with 93.6 per cent full-time employment rates for undergraduates
* CSU ranked the highest median full-time undergraduate salaries, at an average $78,300
Charles Sturt University (CSU) is ranked by the 2018 Graduate Outcomes Survey – Longitudinal (GOS-L) as the top Australian tertiary institution for undergraduate full-time employment and incomes three years after graduation.
CSU had the highest full-time employment rate for undergraduates at 93.6 per cent.
Similarly, CSU's graduates recorded the highest median full-time undergraduate salaries, at an average $78,300.
CSU's Deputy Vice-Chancellor (Students) Ms Jenny Roberts (pictured) said the survey findings reflected the commitment of CSU to educating professionals for regional Australia and the world.
"Charles Sturt University aims to provide a high-quality flexible learning experience that fits around our students' lives and aspirations," Ms Roberts said.
"The survey results validate the University's strategy which focuses on developing students who graduate with the knowledge, skills, attitudes and professional networks for a meaningful life and successful career.
"It is a credit to the University's staff, who ensure we deliver high levels of learner engagement and support for students and to our industry partners, who provide our students with practical, real-life experiences.
"I'm proud that CSU continues to lead in graduate outcomes, in a continually changing higher education environment."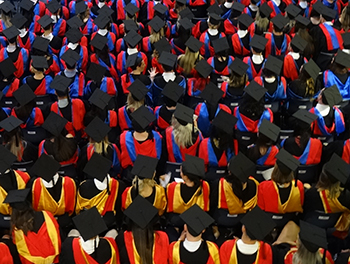 The result follows CSU retaining its position as the national leader in full time employment for graduates and the state leader for graduating salaries noted in the 2018 Good Universities Guide.
The Graduate Outcomes Survey report notes that three years after graduation there has been substantial improvement in full-time employment rates across universities, so that all universities have full-time employment rates for undergraduates above 81 per cent.
While the report emphasises that factors such as course offerings, the composition of the student population, and variations in state/territory and regional labour markets, might also impact on employment outcomes, the data suggests that there is differentiation among universities with some achieving higher rates of full-time employment over the medium-term than others.
The GOS-L report was produced as part of the Quality Indicators for Learning and Teaching (QILT) survey program funded by the Australian Government Department of Education and Training.
The survey compares 2015-2018 data from more than 38,000 graduates from 60 institutions (39 universities, and 21 non-university higher education institutions or NUHEIs).
The 2018 Graduate Outcomes Survey – Longitudinal report is available at www.education.gov.au