Described as a genuine all-rounder, agricultural scientist and educator, Emeritus Professor Ted Wolfe of Wagga Wagga has received a national award for his 'life-time commitment to Australian agriculture and pasture science'.
One of two Australian Medals of Agricultural Science for 2010 was awarded to Professor Wolfe by the Australian Institute of Agricultural Science and Technology (AIAST). The other recipient was Mr Jim McColl of South Australia, a long-time advocate of farm business management and consultancy services.
The Institute commended Professor Wolfe for his 'great and remarkably diverse contributions in agronomy, animal health, pasture ecology, plant breeding, pasture improvement, and pasture and crop interactions'.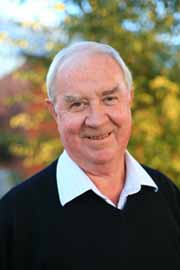 Starting his career in the 1960s as a teaching fellow with the University of Sydney, Professor Wolfe went on to be a research agronomist and later a Director of Research at the then NSW Department of Agriculture in Wagga Wagga. In 1983 he took up the position of Regional Director of Research for the New England, Hunter and Metropolitan Region, based at Tamworth in northern NSW. In 1990 Professor Wolfe returned to Wagga Wagga as Professor of Agriculture and Head of the then School of Agriculture at the newly established Charles Sturt University (CSU). He continued as Professor of Agriculture at CSU until his retirement in 2001, after which he was given the honorary position of Emeritus Professor.
In awarding the Medal, the AIAST acknowledged Professor Wolfe's 'open, generous, friendly approach to students and colleagues, which made him an outstanding teacher, mentor and academic leader'.
Even in retirement, Professor Wolfe is a member of the
EH Graham Centre for Agricultural Innovation
– a collaborative alliance between CSU and Industry & Investment NSW. His activities include roles as a professional and community advocate, writer and editor of agricultural science publications, guest University lecturer, organiser and host of agricultural student exchanges and international visitors to CSU, and as a consultant and trainer for rural programs in North Korea and Eritrea.
"I certainly feel honoured by the award of this medal. I have enjoyed everything along the way, particularly my professional friendships," Professor Wolfe said.
"While I am satisfied with my career contributions, I do regret not having had more time to put into advocacy for Australian farmers, who have done a great job in recent decades producing food, enhancing productivity, implementing sustainable farm systems and in looking after their livestock."
Director of the EH Graham Centre, Professor Deidre Lemerle said, "Ted plays a critical role in the Centre, providing support and mentoring staff and students. He encourages broad debate about the big issues challenging agriculture such as food security and adaptation to climate change, and he stimulates discussion around solutions for future sustainable farming systems."
During his lengthy involvement in agricultural research, including on panels of several rural R & D corporations, Professor Wolfe focussed on pasture improvement in relation to livestock production and health (cattle bloat, clover disease in sheep), the integration of crops and livestock in farming systems, and improving the teamwork of scientists and farmers in agricultural R&D. For the past two years, Professor Wolfe has chaired the Regional Advisory Committee for the Cancer Council of NSW in the southwest region.
Living in the regional NSW city of Wagga Wagga, Professor Wolfe is married to Sally. They have four children living in Wagga Wagga, Bathurst, London and New York and are the proud grandparents of six boys.