Charles Sturt University (CSU) students have been named winners at the National Merino Challenge for the second successive year.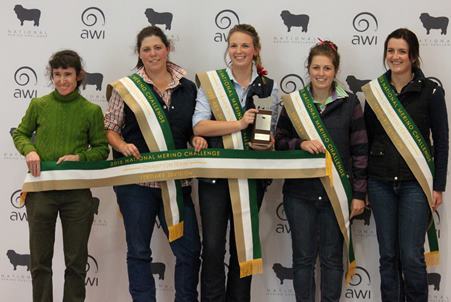 Three animal science students Ms Brooke Cowan, Ms Kayla Kopp, Ms Nyssa Belton-Liddy and agricultural science student Ms Zoe Lynch finished the competition as Champion Team in the tertiary division.
An initiative of Australian Wool Innovation (AWI), the two-day competition involves students participating in seven 'mini-challenges' to test their knowledge of Merino fleece, production, breeding and selection.
Team trainer from University's School of Animal and Veterinary Sciences Dr Susan Robertson said, "Charles Sturt University had a large team competing in this year's Challenge in Adelaide.
"It is encouraging to see so many students wanting to learn more about the merino industry," Dr Robertson said.
"Involvement in this national competition is the first opportunity many of our students have to test some of the skills taught at University. For those with more experience, they can always learn something new by talking to industry experts. Our team showed a lot of commitment and we are very proud that they have done well in the competition."
Student Ms Brooke Cowan said, "The National Merino Challenge was one of the greatest opportunities for us as students, heading towards our final years of study not only to connect with industry leaders in a social and informal environment, but to work through the challenges with some of the best industry representatives to further our knowledge in tasks that are performed every day around the country.
"It was amazing to see so many young students interested in the sheep and wool industry and is definitely something I would recommend to anyone who is interested in a career in the sector," she said.
"It is definitely clear from this competition that the future of sheep and wool in Australia is a bright one.
"On behalf of the Charles Sturt University team, I would like to thank AWI and in particular project manager Ben Watts for an incredible event."
CSU student Ms Nyssa Belton-Liddy was awarded third place and was named top performer in the Challenge's wool section – both in the tertiary division.
The CSU students competed against university students from across Australia and those studying through TAFE or another Registered Training Organisation.
The CSU team was sponsored by Landmark Wagga, Schute Bell Badgery Lumby, Wool Producers Australia and TA Field Estates.
A full list of the winners at the Challenge can be found here.