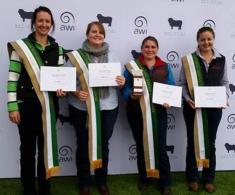 A team of students from Charles Sturt University (CSU) has won the Tertiary Division of the National Merino Challenge (NMC).
An initiative of Australian Wool Innovation (AWI), the Challenge is designed to demonstrate skills in sheep classing, production and fleece assessment.
The CSU team of Ms Catherine Worner, Ms Jordan Hoban, Ms Dione Howard and Ms Patricia Coleman, from the School of Animal and Veterinary Sciences and School of Agricultural and Wine Sciences, claimed first place in the tertiary teams challenge.
Bachelor of Animal Sciences student Ms Hoban, from near Macksville in northern NSW, was named the overall tertiary champion.
"I've learnt an incredible amount of information about the Merino and wool industry and gained an understanding that I didn't have before," she said. "It was a great opportunity to meet new people and develop contacts for my future career."
During the two-day National Merino Challenge in Melbourne, students competed in seven practical challenges including sheep selection, wool valuation and nutrition and feed budgeting.
The CSU team has been trained by Associate Professor Michael Friend and Research Fellow Dr Susan Robertson from CSU's School of Animal and Veterinary Sciences.
Dr Robertson said the students learn to apply theoretical principles in a practical situation for a range of skills required when breeding and managing Merino sheep flocks.
"It's a great opportunity for those with limited practical experience to gain these skills, and for those with more experience to hone those skills," she said. "To win the competition the students need to both understand the theory and have the practical skills to apply it"
Nine CSU students took part in the competition, with the four highest scores taken into consideration in the tertiary challenge.
"Our team went above and beyond with one member getting a black eye after a run in with a feisty wether during the condition scoring," said Dr Robertson.
It's the second time Ms Hoban has been successful in a national competition, she was selected in the Australian Intercollegiate Meat Judging Team which toured the United States in 2013.
"My Honours research is about measuring the quality of sheep meat, so up until now my interests have been more focused on the meat side," she said. "The National Merino Challenge has given me the desire to broaden my knowledge and experience in the fibre industry and it is certainly something I wish to pursue."
The CSU team is sponsored by TA Fields Estate, Fox and Lillie Rural, Broula Merino stud and the Cesnik family.