Two veterinary science students at Charles Sturt University (CSU) put their training into practice helping authorities contain an outbreak of Low Pathogenic Avian Influenza on a commercial duck farm in Victoria.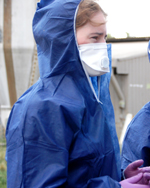 Ms Katherine Snell and Mr Torquil McKillop are final year
Bachelor of Veterinary Biology / Bachelor of Veterinary Science
students in the
School of Animal and Veterinary Science
at CSU in Wagga Wagga NSW.
The pair was on work placement with the Victorian Department of Primary Industries (DPI) when the bird flu was detected in January 2012.
Ms Snell and Mr Torquil helped the DPI Victoria euthanase 22 500 ducks and decontaminate the affected properties north west of Melbourne.
Ms Snell said it was a chance to apply the skills and knowledge learnt at CSU to a real world situation.
"An opportunity to become involved in eradicating an emergency animal disease is not something that comes about every day," she said.
"Having undertaken simulations during classes at Charles Sturt University using AusVetPlan, we had some understanding of what is required during a disease outbreak, but it is not until you are there first hand that it all sinks in.
"We were fortunate that DPI Victoria gave us the opportunity to get involved with the case and the lessons learnt will be invaluable for our future careers," she said.
The low pathogenic subtype of avian influenza detected in Victoria is not the highly pathogenic H5N1 virus affecting poultry and humans throughout much of Asia.
While the virus is relatively harmless, the Victorian DPI did not risk it lingering in bird populations and mutating to a more virulent strain.
The affected properties have now been depopulated and movement restrictions on poultry have been imposed on surrounding areas.
More information about Low Pathogenic Avian Influenza outbreak in Victoria can be found
here
.