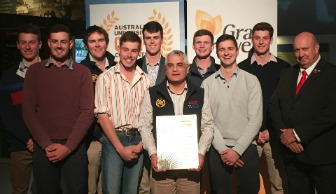 Charles Sturt University (CSU) agricultural science students have claimed top honours at the Australian Universities Crops Competition (AUCC).
The annual competition organised by national grain farmers' representative body, GrainGrowers, tests students' practical knowledge of crop production and the grains industry.
CSU won the team competition and students from the University picked up the first three places in the individual category.
Over the three-day event, CSU Bachelor of Agricultural Science students Mr Andrew Lord, Mr Thomas Jeffery, Mr Fraser Harrison, Mr Nicholas Grant, Mr Danyon Williams, Mr Angus Knight and Mr Elliot Lade competed in a range of agronomic and assessment tasks.
Mr Grant was awarded first place overall, Mr Williams second and Mr Jeffery was awarded third place.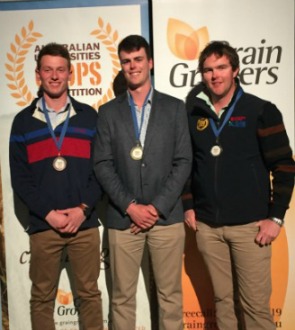 All three students will now take part in a study tour of the United States in November where they will compete in the Collegiate Crops Judging Contest in Kansas City.
"I'm looking forward to the study tour, to learning more and seeing the scale of agricultural production in the United States," Mr Grant said. "Apparently they take the crop judging very seriously over there, so taking part in the competition will be a whole new experience and I'm excited about the prospect."
Team mentor and CSU lecturer in crop science Dr Sergio Moroni said, "This is an outstanding result for the members of the team and rewards their hard work and training to prepare for the competition.
"It also demonstrates that the agricultural science program at Charles Sturt University is industry relevant and prepares our students for the workforce."
In 2017 more than 30 students from five universities took part in the AUCC in Temora from Tuesday 12 to Thursday 14 September.
The team from CSU's School of Agricultural and Wine Sciences in Wagga Wagga was supported by the Graham Centre for Agricultural Innovation.