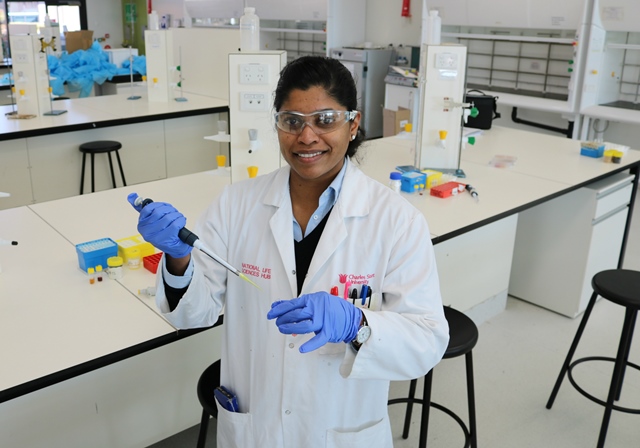 A Charles Sturt University (CSU) research student who's examining the potential anti-cancer properties of coloured rice has won a coveted spot in an international training program.
Ms Shiwangni Rao, who is in the second year of her PhD at ARC Industrial Transformation Training Centre for Functional Grains (Functional Grains Centre) will travel to the Philippines next week for a training program through the International Rice Research Institute (IRRI).
"My research focusses on the antioxidants found in whole grain coloured rice and other grains," Ms Rao said.
"It involves extracting the concentrated bioactive chemical compounds found in the bran layer of whole grain rice then applying them to gut cancer cells in the laboratory. So far the coloured varieties of whole grain rice have shown promising anti-cancer potential."
Ms Rao has been awarded a scholarship by the NSW Crawford Fund to attend the three-week IRRI Rice Production to Research Course from Monday 14 August.
"I'm looking forward to learning more about the various rice varieties and their production in Southeast Asia, meeting other emerging scientists in this field and picking up some new skills that I can put into practice in my own research," Ms Rao said.
"The International Rice Research Institute's training programs are designed to build the next generation of rice scientists to reduce poverty and hunger, improve the health of rice farmers and consumers, and ensure environmental sustainability of rice farming."
Functional Grains Centre (FGC) Director Professor Chris Blanchard said, "One of the main aims of the Centre is to train the next generation of grain scientists. This course will be an important learning opportunity for Shiwangni and provide her with a global perspective of rice production."
Ms Rao's research is supervised by Professor Blanchard, Dr Kenneth Chinkwo, Dr Thiru Vanniasinkam from CSU and Dr Jixun Lou from the NSW Department of Primary Industries (DPI).
Funded by the Australian Research Council, the FGC is an initative of the Graham Centre.