The Governor-General, Ms Quentin Bryce AC CVO, literally went underground to explore the agricultural research being undertaken at Charles Sturt University (CSU) in Wagga Wagga.
During a visit to the regional city on Sunday 17 February, the Governor-General and her husband, Mr Michael Bryce AM AE, took a tour of teaching and research facilities at CSU in Wagga Wagga and met with Vice-Chancellor Professor Andrew Vann, researchers and students.
"The tour was based on a 'paddock-to-plate' theme, starting with the soils through to examining ways to improve the quality of food products produced in our mixed farming systems," Professor Lemerle said.
"We discussed adapting canola to climate change and improving soil water and nutrient use efficiencies; animal health and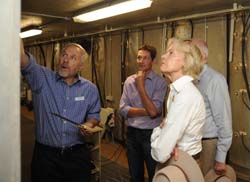 welfare; weeds, pests and integrated pest management; food quality; and the need for student training to ensure the future of agricultural research.
"The Governor-General was very impressed with the new facilities, and the energy and optimism of everyone - especially the postgraduate and undergraduate students she met and our strong industry links.
"She was very enthusiastic about the role of the Graham Centre to undertake critical research and development, and capacity building for the agricultural industries of the Murray Darling Basin, as well as southeast Asia."