The Charles Sturt University (CSU) Boutique Winery is celebrating after its entire range won medals at the 2017 Australian and New Zealand Boutique Wine Show in Sydney.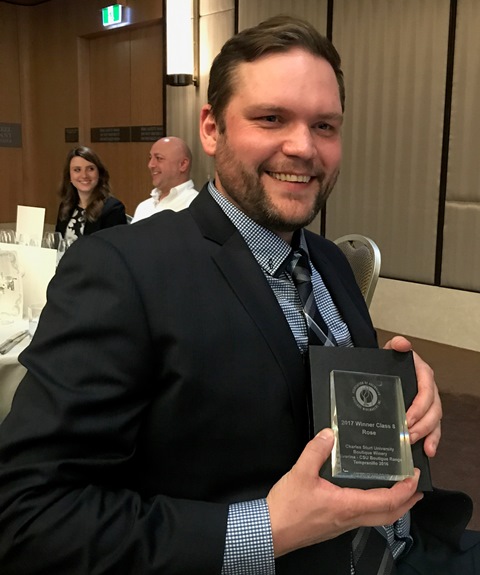 The six medals, including two gold, come only months after CSU launched its new boutique wines.
Taking out the gold medal and a coveted trophy was the CSU Boutique Tempranillo Rosé, with a second gold medal awarded to the CSU Boutique Tempranillo.
Executive Dean of the CSU Faculty of Science Professor Tim Wess said, "I am very proud that every one of our new boutique wines won a medal at this prestigious Show.
"It demonstrates that the University's Boutique Winery has a bright future providing high quality and innovative wines."
CSU winemaker Mr Campbell Meeks (left) said, "These awards are important as they give a voice to small producers who can be more flexible and able to push the limits in terms of varieties, wine styles and winemaking technique.
"In that way we can be trail blazers and a valued part of the Australian wine industry."
The grapes for both gold medal winning CSU wines were grown locally by producers in Oura near Wagga Wagga.
Other wines recognised at the prestigious Show include CSU Boutique Chardonnay – Tumbarumba, CSU Boutique Chardonnay – Orange, CSU Boutique Shiraz and CSU Boutique Nebbiolo which all won bronze medals.
Hosted by the Association of Australian Boutique Winemakers Inc., chairman and head judge Mr Huon Hooke announced the winners at a ceremony at the Shangri-La Hotel in Sydney on Friday 4 August.
Mr Hooke said, "Boutique wineries are more creative in their use of newer varieties than the larger wineries.
"The traditional pattern is that Boutiques pioneer new things, often as a way to differentiate themselves, and once they've created a market for them, the larger wineries get involved.
"This is an important part of competition and I look forward to seeing it strengthen even further."
The CSU Boutique Winery launched its 2016 boutique range in March. A University owned and operated business, the wines are sold online and are available through the Cellar Door at CSU in Wagga Wagga.
The Australian Boutique Wine Association show was established in 1996 by the Association of Australian Boutique Winemakers Inc., in order to give the boutique winemakers an opportunity to promote their wines among peers.