To describe his start to life as rough would be an understatement.
Equestrian champion, Wendela Jamie has overcome his early trials to qualify to compete in the London Olympics in little over a year.
The qualification was confirmed when Jamie, ridden by Mr Craig Barrett, won the 3 Star Class at the Melbourne International 3 Day Event in June.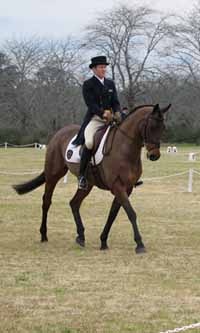 His on-going success under the guidance of Mr Barrett from
Sandhills
at Branxton in the NSW Hunter Valley is being keenly watched by his owners, the Hickses, as well as by equine science staff at Charles Sturt University (CSU) in Wagga Wagga.
Dr Hicks from Wagga Wagga said, "Without Charles Sturt University and its pool of expertise in equine and veterinary sciences, we would not have had Wendela Jamie".
"In 1996, when our mare Miss Tiptoe was still not in foal, we arranged through Charles Sturt University lecturer Mr Hunter Doughty for her to be taken to the University's Equine Centre in Wagga Wagga.
"She became a 'difficult maiden mare' project for our equine science students," said Mr Doughty. "They succeeded in getting her in foal to the Charles Sturt University stallion, Prince Regent."
Dr Hicks said, "The connection does not end there for Charles Sturt University and Wendela Jamie. He was born with one foreleg at a 45-degree angle to his knee. Hunter again gave us the heads up to get the information we needed to get the foreleg corrected, which subsequently happened.
"When our horse turned two years, he had a grossly infected eye. Veterinarian and former Charles Sturt University lecturer Dr Heidi Austin treated the eye.
"It was then at a squad school organised through the University's Equine Centre in 2002 when Wendela Jamie was first seen by Craig Barrett, who has since taken him to great heights."
"Jamie is one of those horses that come along only once in a lifetime," said Mr Barrett. "He is every bit an Olympic Games horse. I am thrilled that the first part of our Olympic plan has come together and will be looking to repeat the performance at the Adelaide International event in November this year, which will be a major selection event for London.
"Henry and Helen Hicks are to be congratulated not only on the recent win at Melbourne but also on their determination in the early days to persevere with a dream of producing a top class event horse."
Dr Hicks said, "As owners, my wife and I thank Charles Sturt University for its involvement in 'producing' Wendela Jamie for us."
Head of the
School of Animal at Veterinary Sciences
at CSU in Wagga Wagga, Professor Nick Sangster said, "We are pleased the Hicks came to Charles Sturt University to the benefit of their horse and our equine science program. We wish them well on the Olympic journey ahead and we will be watching closely."