Charles Sturt University (CSU) has signed a new formal agreement with four mixed farming systems groups to develop a strong future for farmers and farm businesses in central and southern NSW and northern Victoria.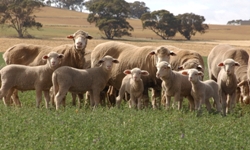 Through the Graham Centre for Agricultural Innovation, the University's Acting Deputy Vice-Chancellor (Research, Development and Industry) Professor Mary Kelly has signed the strategic alliance along with representatives of Central West Farming Systems, FarmLink Research, Holbrook Landcare Network and the Irrigated Cropping Council.
It creates a powerful team to deliver research, development, education and training for cropping and livestock production and systems integration in dryland and irrigated systems in the southern and central west NSW and northern Victoria.
Professor Kelly said, "Essentially, our new agreement puts a framework around the work we already do together and the work we want to do in the future.
"We are motivated by the need to develop robust, sustainable and formal linkages to deliver more profitable systems for all the growers represented, while keeping our individual identities and independence."
FarmLink Research Chief Executive Officer Ms Cindy Cassidy said, "Central West Farming Systems, Holbrook Landcare Network, Irrigated Cropping Council and FarmLink have an extensive member base of farmers, advisors and researchers focused on the future of farming in the region.
"Our partnership with Charles Sturt University reflects our commitment to education and research to achieve profitable and sustainable farming."
The new formal alliance links CSU researchers, students and graduates with the farmers and research trials, offers scholarships and workplace learning opportunities for students, and shares skills in research management, governance, and technology.
The Graham Centre is an alliance between CSU and NSW Department of Primary Industries.
FarmLink is based at Temora providing agricultural research validation and extension services to farmers across 1.2 million hectares of southern NSW.
Central West Farming Systems is a not-for-profit farmer-driven agricultural research organisation based at Condobolin and servicing farmers in a region covering approximately 14 million hectares of central NSW. It provides locally-relevant research and information with a focus on whole farming systems in the low and medium rainfall zones; both dryland and irrigation.
Holbrook Landcare Network is based in Holbrook, providing information and support to producers and communities to enable informed and evidence-based decision-making with a focus on the high rainfall mixed farming zone of southern NSW.
Irrigated Cropping Council is driven by irrigation mixed farmers across northern Victoria and southern NSW. It also has agribusiness, educational and government members. The Council aims to provide research and extension services relevant to the mixed farming sector.