Bushfires change Australian landscapes and they can also change lives forever.
This was the case for
veterinary science
student at Charles Sturt University (CSU), Ms Siobhan Carson from the Victorian town of Nagambie.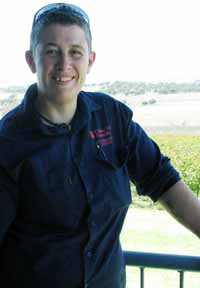 Ms Carson joined the Country Fire Authority (CFA) in Victoria as a volunteer fire-fighter in 1988 at the age of 15. In 2005, she was also employed as a Community Safety Officer, a role that saw her working closely with the communities of Marysville, Clonbinane and Wandong when the Black Saturday bushfires ravaged the area in February 2009.
"There is a list of 173 names after that tragedy," said Ms Carson. "That isn't a list of names to me. That is a lot of faces. Too many faces. "
"There is something about death that makes you face facts about life," said Ms Carson.
The CSU student is no stranger to loss as her 34-year-old brother died from cancer in 2006.
However, Ms Carson is philosophical about loss. "I will admit things unravelled a bit after those fires, but in the end I came to realise that I didn't want to remain a victim. I'm a qualified paramedic who has worked in the industry for years, and I've worked and sweated and even cried with rural communities for most of my life. It would be a tragedy if all those skills I've acquired were to go to waste. So I asked myself, if I could do anything what would that be? My answer was veterinary science. I had wanted to be a vet since school.
"I only wanted to study at Charles Sturt University's veterinary science program because of its focus on rural and livestock practice."
Ms Carson was accepted into the six year veterinary science program in the
School of Animal and Veterinary Sciences
at CSU in Wagga Wagga in 2011. She received two distinctions and five high distinctions in the first year of her course, with straight high distinctions in the second half of 2011. She was recently awarded a Dean's Award for that effort. She also received the
Australian College of Veterinary Scientist Epidemiology Chapter Award
for the most outstanding student in animal disease management.
Now in her second year, the veterinary science student returns to Victoria on weekends to work at a mixed veterinary practice as a nurse.
"The quality of Charles Sturt University's graduates and students shows the University has bridged the great divide in veterinary science education.
"I'm nearly 40 and I don't want to have any regrets in my life. I'm really sold on this course. It's the best decision I could have made."