Visiting the abattoir and learning how to grade a carcase may seem an unusual way to spend your spare time but it has led to a world of opportunity for Charles Sturt University (CSU) student Ms Vanessa Campbell.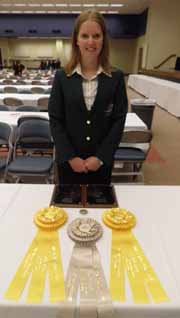 After touring the USA as a member of the Australian Intercollegiate Meat Judging (ICMJ) team earlier this year, Ms Campbell will attend the national
ICMJ
competition and conference at CSU in Wagga Wagga next week.
During the month-long visit to the USA, the national meat judging team took part in three competitions, as well as visits to farms, feedlots, processors and retail outlets.
"I enjoyed every moment of the tour and was not only able to improve my meat judging skills but learnt many things about American agriculture and how it compares to farming in Australia," Ms Campbell said.
"It was a brilliant way to meet people from many states of America, and exposed us to the quality and quantity of meat production."
Ms Campbell secured ninth place at the South Western meat judging contest at Fort Worth, Texas. Read more on CSU News
here
.
"Being involved in the meat judging program has given me a new perspective of just how many professional roles and employment opportunities there are in the meat industry," she said.
She's continuing her interest in the field by taking on a new role as a coach of the 15-member CSU Meat Judging Team for next week's ICMJ competition.
"I enjoy being able to teach the students the things I now know about meat judging and it is great to see them improve their judging skills," she said.
The ICMJ competition and workshops at CSU in Wagga Wagga has attracted 150 students from nine Australian universities and colleges together with teams from Pakistan, South Korea, Japan and the USA. Observers from Indonesia will also attend the event.
Professor of Animal Production, Peter Wynn from the
School of Animal and Veterinary Sciences
at CSU in Wagga Wagga, said, "Over the past 22 years, the Intercollegiate Meat Judging has provided learning opportunities for students who have gone on to be leaders of Australia's meat industry, both in corporate and government organisations.
"The increasing interest in the event from the Asian region can only help assist our export markets for both live animals and processed product. With its animal and veterinary sciences facilities, Charles Sturt University is ideally placed to host this important training event in the meat industry calendar."
Highlights include presentations about animal welfare, paddock-to-plate production, and a supermarket perspective on the sustainability of the industry. Students will attend a career expo, and the event will culminate in a two-day judging competition from which a national training team will be selected.
The major sponsors for the Australian ICMJ competition are Meat and Livestock Australia (MLA) and the Australian Meat Processor Corporation (AMPC). The CSU Meat Judging team is supported by Rennylea Angus Stud Holbrook, Wirruna Poll Herefords Holbrook, Teys Australia, Junee Abattoir, and Knight's Meats and Deli.