Prime Minister John Howard's $10 billion National Plan for Water Security is missing two essential ingredients – details on how public participation will be achieved and an environmental perspective, according to a Charles Sturt University (CSU) academic.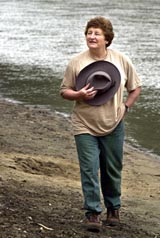 Professor of Water Policy Kathleen Bowmer is a key researcher with the University's
Institute for Land Water and Society
(ILWS). She says both the Council of Australian Governments'
Water Reform Framework
in 1994 and the 2004
National Water Initiative
strongly required public participation in decision making.
"It is not clear how agreements on water sharing made through the community consultation over the last five or seven years will be honoured in the new plan, or how, into the future, resources and processes for public participation will be developed," Professor Bowmer said.
Professor Bowmer is concerned about the limited extent of regional consultation and participation so far. However some groups, such as consortiums of irrigation corporations, do have access to Malcolm Turnbull, Federal Minister for the Environment and Water Resources.
"I think it is important for advice to be sought and given," she said. "But it is important for all stakeholders to be given an opportunity to have their say and to be included in the development of future policies. That includes individual farmers, members of rural communities and businesses, and advocates for the environment.
"For example, we see the Bureau of Meteorology being given $500 million under the new plan to collect information on and model climate change and water flow." And while Professor Bowmer says this is a good initiative, she added that other investments made through the National Plan were less transparent. These include social, economic and environmental analysis and regional and community participation.
"There is very little detail about where the water saved for the environment will go," she said. "So far, environmental water has been linked mostly to the icon sites in the main Murray system. But what about the other parts of the Murray Darling Basin that also need water?
"Also, other ways of getting improved environmental dividends without using more water don't appear to be explicit in the new plan. Examples include fish ladders, fixing 'cold water' pollution, pulsing water releases from storages, and incentives for changing patterns of irrigation demand."
Professor Bowmer will present her views on public participation in water policy decisions at the
5th Australian Stream Management Conference
, which will be hosted by CSU's ILWS in Albury, NSW on Monday 19 to Friday 25 May. Professor Bowmer's other paper is on the lessons learnt from the water sharing processes in NSW.