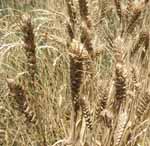 Progress with the development of perennial grain crops in Australia and overseas is one of the projects occupying the mind of Professor Len Wade, Strategic Research Professor in Agronomy at The EH Graham Centre for Agricultural Innovation at Charles Sturt University (CSU).
The interest in perennial crops, which grow and produce for more than one year, has increased in the lead up to an international workshop on perennial grain crops to be held at CSU in Wagga Wagga, NSW, from Monday 20 September to Friday 24 September.
"Grain crops, like wheat and rice, are traditionally annual plants that only grow for one season, but an international alliance of researchers is working towards developing perennial grain crops," Professor Wade said.
"The genetics of perennial wheat is complex and as a result the research is in the early stage. There is cooperative research in progress in Australia, China and the USA. We are certainly years away from having a suitable variety for release in Australia. However the project team is excited by the progress and have established that the concept can work here. A number of lines have shown strong regrowth after harvest and produced a second harvest.
"The application envisaged in Australia is to give producers a perennial graze-and-grain option with the attending benefits of reduced erosion of fragile soils, enhanced interception of rainfall, enhanced nutrient capture, reduced fuel use, and increased soil carbon sequestration."
"Many researchers now working on perennial crops will gather at the workshop so we can discuss progress, the way forward, and opportunities to secure support for further research," Professor Wade said.
As part of the project, types of perennial wheat from Washington State University and the Land Institute in the USA have been grown in the field at Cowra in central west NSW. The trial sites will be visited by workshop delegates on Wednesday 22 September.
"As the world population increases, the efficient production of rice and wheat, some of the world's most consumed foods, are becoming increasingly important. Food security is now a clear global priority.
"As a result, crops are urgently needed which can make more efficient use of available soil and water. This research aims to increase and stabilise production of our staple grains, which feed the majority of people from developing countries," Professor Wade said.
A timetable for the International Workshop on Perennial Grain Crops from Monday 20 September to Friday 24 September can be found below.