* CSU celebrates thousands of graduating students
* Families and friends flock to CSU graduations
* Annual graduations boost regional economies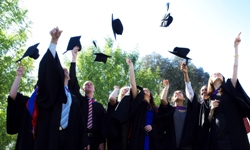 Charles Sturt University (CSU) will host its 2018 graduation ceremonies across all main campuses as well as in Parramatta and the Study Centres in Sydney and Melbourne during December.
The season starts on Monday 10 December in Wagga Wagga and Parramatta, and concludes in Albury-Wodonga on Wednesday 19 December.
Approximately 4,000 students will graduate across all ceremonies, and thousands of family members and friends will celebrate the achievements of the students.
CSU Vice-Chancellor Professor Vann said he is looking forward to attending a number of the ceremonies, and commented on how proud it makes him to share in the achievement of the graduates.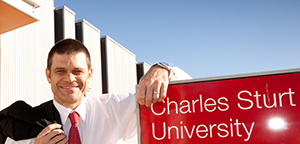 "Graduation is an important milestone, recognising years of hard work and dedication to study. It's always a pleasure to celebrate the success of our students and to share that with their family and friends," said Professor Vann (pictured left).
"It's also exciting to know that our graduates are poised to put the professional knowledge and skills they've acquired through study and research at Charles Sturt University to work, to make a real difference in our community."
"Our students should not only be pleased with their efforts, but also confident of their future, because of our graduate outcomes; 85 per cent of Charles Sturt University graduates find full-time employment within four months of graduating and also earn a median salary of $62 000, the highest graduate starting salary of university graduates in NSW."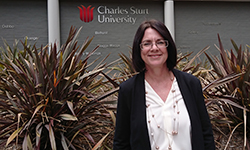 CSU Deputy Vice-Chancellor (Students) Ms Jenny Roberts (pictured left) said, "Graduations are one of the highlights of the year and Charles Sturt University takes great pride in developing quality graduates for our local communities that support the public good.
"Our graduates have studied a diverse range of courses and have acquired the necessary knowledge, skills and experience to begin work in their community or undertake further study.
"Each Charles Sturt University graduate has experienced their own journey to graduation. We look forward to them making their own unique contributions to their profession and their community, and to hearing of their future success."
Monday 10 December:
Wagga Wagga at Joyes Hall at CSU
9.30am - Faculty of Science;
2pm - Faculty of Science;
6pm - Faculty of Business, Justice and Behavioural Sciences
Parramatta at St Patrick's Cathedral, Parramatta, - 9.30am – Faculty of Arts and Education / School of Theology (Canberra)
Tuesday 11 December:
Wagga Wagga at Joyes Hall at CSU
9.30am - Faculty of Arts and Education;
2pm - Faculty of Science / School of Animal and Veterinary Science;
6pm - Faculty of Arts and Education
Study Centre – Sydney at Rosehill Racecourse, Rosehill
9.30am - Faculty of Business, Justice and Behavioural Sciences;
2pm - Faculty of Business, Justice and Behavioural Sciences;
6pm - Faculty of Business, Justice and Behavioural Sciences
Thursday 13 December:
Bathurst at the CD Blake Auditorium (the gym), building 1220 at CSU
9.30am - Faculty of Business, Justice and Behavioural Sciences
2pm - Faculty of Arts and Education
6pm - Faculty of Arts and Education
Dubbo at Dubbo Regional Theatre and Convention Centre – 9.30am - All faculties
Orange at Kinross Wolaroi School, Orange – 4pm – All faculties
Friday 14 December:
Bathurst at the CD Blake Auditorium (the gym), building 1220 at CSU
9.30am - Faculty of Business, Justice and Behavioural Sciences
2pm – Faculty of Science
6pm – Faculty of Science
Monday 17 December:
Port Macquarie at The Glasshouse, Port Macquarie
9.30am - Faculty of Arts and Education
2pm - Faculty of Science, and Faculty of Business, Justice and Behavioural Sciences
Study Centre – Melbourne at the Melbourne Convention Centre
2pm - Faculty of Business, Justice and Behavioural Sciences
6pm - Faculty of Business, Justice and Behavioural Sciences
Tuesday 18 December:
Study Centre – Melbourne at the Melbourne Convention Centre
9.30am - Faculty of Business, Justice and Behavioural Sciences
2pm - Faculty of Business, Justice and Behavioural Sciences
6pm - Faculty of Business, Justice and Behavioural Sciences
Wednesday 19 December:
Albury-Wodonga at the Albury Entertainment Centre
9.30am - Faculty of Science
2pm - Faculty of Science, and Faculty of Business, Justice and Behavioural Sciences
6pm - Faculty of Arts and Education
Detailed information about all ceremonies can be found here: https://graduation.csu.edu.au/options-to-graduate/december/all-ceremonies