* Green Globe Award acknowledges CSU environmental programs
* Award is synonymous with achieving good sustainable outcomes
* A CSU alumna also awarded for advocacy and promotion of sustainable agriculture
A Charles Sturt University (CSU) staff member has been recognised at the NSW Government's premier sustainability awards night, the 2018 Green Globe Awards.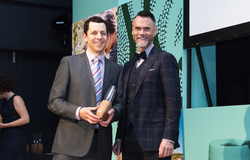 CSU Green manager Mr Ed Maher was jointly awarded the 2018 Sustainability Champion Award for his work delivering environmental programs that led to CSU becoming Australia's first certified carbon neutral university.
The CSU programs included the roll-out at CSU of one of Australia's largest roof top solar systems, and a 'War on Waste' campaign that more than halved the number of disposable coffee cups used across on-campus cafes and has been rolled-out to cafes elsewhere.
Mr Maher said receiving the award was a great honour, particularly because the reputation of the award was synonymous for achieving good sustainable outcomes.
"The recognition reflects Charles Sturt University's commitment to and importance placed on sustainability as being part of how it does business.
"The awards have been held since 2012, so they come with a level of prestige and recognition among business, industry, not-for-profit and government sectors," Mr Maher said.
Mr Maher said the awards night was also a valuable opportunity to network and see what sustainability innovations and practices are being undertaken across the state.
In winning the award Mr Maher and his team of five sustainability professionals and six student advisors were recognised for their efforts in guiding and implementing sustainable practice across the University community.
Among the other award winners was CSU alumna Ms Anika Molesworth who received the Young Sustainability Champion Award for her advocacy and promotion of sustainable agriculture and vibrant rural communities.
The Green Globes are awarded by the NSW Office of Heritage and Environment at the ceremony held in Sydney on Thursday 4 October 2018.​
Photo credit: Ed Maher, CSU Green manager (left) receives award from Green Globe judge Robin Mellon, CEO Supply Chain Sustainability School.