* Anthea Marriott wins Quantium Data Science as part of a Future Leaders competition
* 100 students across Australia were named Future Leaders for 2019
* As a Future Leader Ms Marriott hopes to be a role model to all woman and have an influence over closing the gender pay gap
Charles Sturt University (CSU) student Anthea Marriott (pictured), has recently won the Quantium Data Science award for Future Leaders, part of the Top 100 Graduate Employers 2019.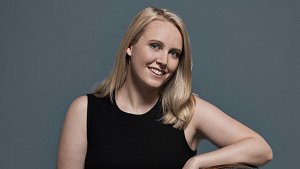 The Quantium Data Science is sponsored by a company called Quantium for students currently studying undergraduate or postgraduate degrees in Australia in the disciplines of Actuary, Mathematics, Science and Statistics.

There were 100 students across Australia including Ms Marriott who were named as the Future Leaders for 2019 by GradConnection. There were ten award sections across a huge discipline of areas and ten finalists for each award.

Ms Marriott who comes from Cumnock in Central West NSW was one of 10 graduates who took out an award, which recognises achievements across the economy, including in engineering, law, consulting, banking and financial services and data analytics.

Having completed a Bachelor of Business, majoring in accounting and currently in her final year studying a Bachelor of Science, majoring in mathematics minoring in statistics, Ms Marriott said that her interest in mathematics started at an early age.

"I had always been interested in mathematics, ever since I was in primary school it was my favourite subject, and it was the only subject that I enjoyed doing homework for," Ms Marriott said.

"Then in high school, I had a great mathematics teacher in years 11 and 12, and from there my love for mathematics grew."

Ms Marriott went through a comprehensive application process which included a set of psychometric tests, a video interview and a final assessment held at the University of Technology in Sydney.

"On the day of the final assessment, I had an interview with two employees from Quantium, during the interview I had to present a presentation and was asked a set of questions.

"After that, there was a group activity to assess our teamwork skills, and from that, the winner was announced that night."

Looking to the future, Ms Marriott would like to own her own data consulting business and hopes to be a positive role model for all women.

"As a future leader, it is very important to me to be a role model for all women, particularly women in STEM as well as being a role model for rural students," Ms Marriott said.

"In addition to all of this, I want to have an influence over closing the gender pay gap as it is a big issue in Australia."

Ms Marriott encourages more students from CSU to enter the Quantium Data Science Award.
"There are so many amazing students at CSU that I have had the pleasure of meeting that would be amazing competitors for this competition."