Forget the dairy and cattle yards, never mind the sheep or pigs. An unusual work placement has shown Charles Sturt University (CSU) veterinary science student, Ms Laura Bairstow a different side of livestock production.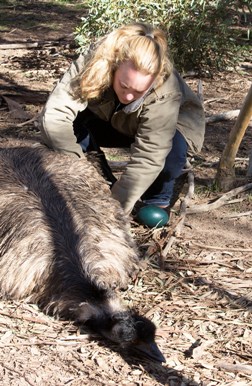 As part of her studies at CSU's School of Animal and Veterinary Sciences in Wagga Wagga, Ms Bairstow spent a week at the Emu Essence farm at Kukerin in Western Australia.
"As part of the course we do practical placements in traditional livestock industries such as dairy, beef cattle, sheep, pigs and poultry," Ms Bairstow said. "Then we have the opportunity to get experience in other areas, and I thought this was something different that would give me the chance to learn more about an industry that's provided an opportunity for farmers to diversify."
Ms Bairstow was involved with feeding and checking the emus but said collecting the eggs was an experience she'll never forget.
"I had no idea how you collect an egg from an emu, so it was a real eye opener," she said. "You walk up to them on the ground, lift their leg and scoop the eggs out from underneath them. I would never have imagined that an emu would tolerate that, but remarkably it doesn't seem to disturb them at all.
"I think that as a vet student it's important to have an understanding beyond the production aspects of an industry.
"The thing that stuck me was that they utilise every part of the emu to maximise the profit, from the oil and eggs to the meat and leather."
While admitting she's unlikely to come across many emus in her future veterinary career, Ms Bairstow said this work placement has been a valuable experience.
"Animal health and management is integral to production and an experience like this reinforces why I want to become a vet," she said.
"Emus behave differently to other livestock, you can't herd them and they can't walk up a ramp so to be loaded into a truck they have to be pushed into a pen that's raised by a hydraulic lift.
"Just because you might not encounter an animal often doesn't mean that you don't have to know about it. The things I've learnt on placement may be able to be applied to other species."
CSU lecturer in ruminant health and production, Dr Emma Scholz, said, "The diverse workplace learning opportunities for Charles Sturt University veterinary students throughout the course contributes to their reputation as highly employable graduates with excellent communication skills, a practical disposition, and a willingness to embrace a rural career and lifestyle."
Listen to CSU veterinary science student Ms Laura Bairstow here.