Charles Sturt University (CSU) is fielding a 27-member student team in the 2014 Australian Intercollegiate Meat Judging (ICMJ) competition being held in Wagga Wagga from Tuesday 8 to Sunday 13 July.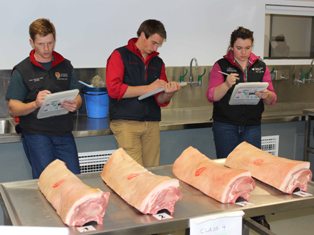 Celebrating its 25th year, the five-day event includes lectures, workshops and competition. It will be held at CSU and Teys Australia abattoir in Wagga Wagga, with a special anniversary presentation dinner at the local RSL Club. The full ICMJ program is available on the ICMJ website.
Coaching the CSU team of agricultural business management, agricultural science, animal science, equine science and veterinary science students is Ms Vanessa Campbell, who toured the USA in 2013 as a member of the Australian Intercollegiate Meat Judging team.
Ms Campbell, a fifth year veterinary science student, said, "Charles Sturt University students have always competed well in this national event and I am expecting 2014 to be no different".
"The team, from Orange and Wagga Wagga, has been training early mornings two days a week since the end of first term and are looking forward to being able to mix with some of the current and future leaders of the Australian red meat industry," she said.
The five-day event is organised by the not-for-profit ICMJ Association to highlight careers in the meat industry and provide hands on training in carcass evaluation and meat science. It culminates in a contest where students will judge lamb, pork and beef carcases along with cuts of meat.
The CSU meat judging team is also coached by CSU lecturer in livestock production management Ms Jane Kelly, CSU veterinary science Ms Ebony Mull, and CSU animal science student Ms Laura Kemmis.
The CSU team is sponsored by Rennylea Angus Stud, Teys Australia, Rivalea Australia, Knights Meats, Wirruna Hereford Stud and Elders Livestock Agents.
A full list of the ICMJ sponsors can be found on the ICMJ website.