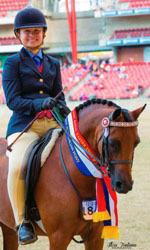 A paramedic student at Charles Sturt University (CSU) in Port Macquarie has won several equestrian events at the recent Sydney Royal Easter Show.
Ms Ebony Langdon, who commenced the third year of her Bachelor of Clinical Practice (Paramedics) at CSU in Port Macquarie in February, won two first places and class Champion.
"My recent success at the 2015 Sydney Royal Easter Show was the highlight of my riding career," Ms Langdon said.
"With my pony, Koora-Lyn Rosette (also known as 'Posh'), I won Australian Pony Led Mare Class, and Australian Pony Ridden Mare Class, then went on to take out Champion Ridden Australian Pony of the Show."
Ms Langdon has been riding since about the age of three, and started competing at the age of five.
"I have trained and competed in many equestrian disciplines and events over the years - pony club, camp-drafting, barrel racing, hacking - but mainly have competed in hacking, which is my passion," Ms Langdon said.
"I have competed at state, national, and Royal levels, and in February 2014, I won the Canberra Royal Show competition. As an amateur within a very competitive sport, I was both incredibly surprised and overjoyed to win in both Canberra and Sydney."
Ms Langdon will graduate at the end of 2015 and is one of the CSU paramedic students who have already secured a job with London Ambulance Service (LAS) and will start there in early 2016. She aims to eventually work with the helicopter emergency medical service (HEMS) as an intensive care paramedic.
"I am thoroughly enjoying the experiences that I have gained while studying at Charles Sturt University," Ms Langdon said.
"I've have had the opportunity to be an ITAS tutor, as well as to go to Thailand as part of a study tour with the course.
"Both of these opportunities have developed my passion to become a paramedic due to my enjoyment of supporting others. Working within the Thai medical system highlighted how lucky we are in Australia. To build on these experiences, I also regularly work as a first aider for rodeos and at other sporting events."