For an unprecedented 12th time, a team of Charles Sturt University (CSU) students has been celebrated as the winner of an annual national student marketing communications competition.
With two teams in the finals, CSU's Kajulu Red team beat their counterparts, Kajulu Blue, into first place when they were awarded the National Champions' title of the 2017 International Advertising Association (IAA) 'Big Idea'.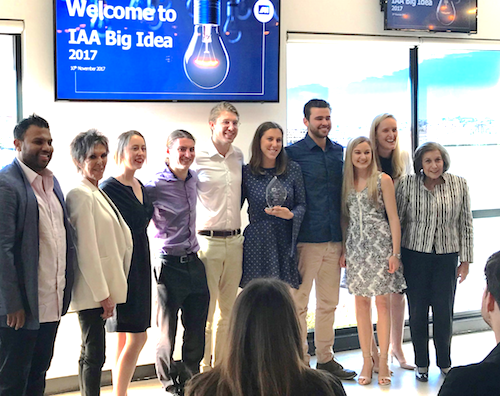 Ms Anne Llewellynn, senior lecturer in advertising in the CSU School of Communication and Creative Industries in Bathurst, said this is the 6th consecutive year that a team from the University's Kajulu student marketing communications agency has won the 'Big Idea' student competition.
"While Charles Sturt University has won this esteemed national inter-university marketing communications competition on a number of occasions, this year was particularly challenging," said Ms Llewellynn.
"The brief was to develop a business-to-business (B2B) communications strategy to create leads to sell Adobe Document Cloud to an as yet untapped industry. The task required the university teams to identify a suitable target market and then to develop the integrated marketing communications campaign. Kajulu Red's 'Big Idea' focused on targeting schools."
Ms Anne Llewellynn is the Faculty advisor for the CSU Kajulu teams, which are comprised of a mix of advertising, business/marketing, public relations, and graphic design students.
"Of course I am enormously proud of our students," Ms Lllewellynn said. "The challenge of identifying a suitable target market required intense research and both teams found unique, untapped industry groups. Kajulu Red went on to develop the winning campaign.
"To work under industry-like pressure on a client brief of this calibre gives our students the significant advantage of real world experience to prepare them for the transition from university to professional practice.
"Kajulu Red's 'Big Idea' - 'Sheet Happens' - is a social initiative that understands the pain of paperwork and offers a solution to allow teachers more time to follow their passion, teaching. The use of a primarily digital and social media campaign was conceived to educate teachers on the specific functional benefits of the product and to encourage them to become advocates for Document Cloud. The work and the presentation by Kajulu Red was to industry standard."
Ms Llewellynn said, "A member of another university's team actually commented 'So this is how high the bar is set!', and now Adobe is considering implementing Kajulu Red's campaign."
Ms Aimee Buchanan, CEO of OMD Australia and Chair of the 'Big Idea' judging panel, said in summing up, "Kajulu Red found an outstanding insight into the target market and developed it into the winning campaign. The calibre of thinking, creativity and passion reinforce the level of talent we have coming into the industry. If this event is anything to go by, we have a bright future ahead."
See previous Kajulu stories here and here.