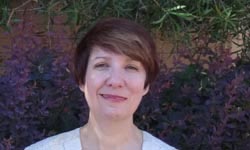 A Charles Sturt University (CSU) academic will address the youth detention Royal Commission in the Northern Territory (NT) tomorrow Friday 2 June to voice her concerns about children in out-of-home care and the justice system.
Deputy Director of CSU's Centre for Law and Justice, Dr Kath McFarlane, will address the Royal Commission into the Protection and Detention of Children in the Northern Territory in Alice Springs.
Dr McFarlane will assist the Commission by providing expert testimony on the intersection between children in out-of-home care and the juvenile detention systems. She'll draw on her research into the criminalisation of children in other forms of care, such as foster homes, residential care and kinship placements.
"My research shows many children in the criminal justice system have a history of involvement with the child welfare system," said Dr McFarlane, who is a senior lecturer at CSU in Bathurst.
"Often children are arrested and end up in custody for fairly minor matters that occur in the care environment, and which would not lead to police involvement if they happened in a child's own home.
"I hope to assist the Commission to better understand the important link between out-of-home care and subsequent involvement with the justice system."
Dr McFarlane will also discuss the preliminary findings of a national project funded by the Criminology Research Council undertaken with her CSU colleagues Dr Emma Colvin, Associate Professor Alison Gerard and Dr Andrew McGrath. The project examines the views of frontline workers about the involvement of children in care in the justice system.
"As part of this research, we will soon interview stakeholders in the United Kingdom about what they have done to break the connection between being in out-of-home care and subsequent offending," Dr McFarlane said.
"As I will discuss with the NT Royal Commission, the UK has made some inroads into reducing the numbers of children who get caught up in the justice system, and we hope to learn from their example."
The Royal Commission was established last year to investigate how children are treated in detention centres and the child protection system in the Northern Territory.