A Charles Sturt University (CSU) academic been selected as a judge for an international equestrian competition in Poland next year.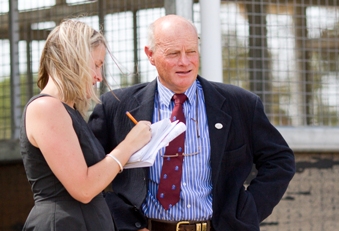 Mr Hunter Doughty from the School of Animal and Veterinary Sciences at CSU in Wagga Wagga has been selected by the sport's governing body, Federation Equestre Internationale's (FEI) Global Education Programme for Eventing Officials.
Mr Doughty has been offered the role of Technical Delegate at eventing competitions, known as CCI and CIC, in the Polish town of Strzegom from Friday 25 to Sunday 27 September 2015.
His selection follows the leading role he played in the development of the Riverina Equestrian Centre, Charles Sturt University which opened on Friday 31 October.
Head of the School of Animal and Veterinary Sciences at CSU in Wagga Wagga Professor Nick Sangster said Mr Doughty's selection as a judge is a great achievement.
"Hunter has an international reputation in equestrian sports and this appointment by FEI puts him at the top of his field," he said.
"This equestrian industry experience and connections came to the fore in the negotiations, development and opening of the new equestrian facilities at Charles Sturt University."
"He built rapport with the Riverina Equestrian Association and his connections were also important in attracting Equestrian Australia selector Olivia Skellern and Olympian Andrew Hoy to the recent opening."
Mr Doughty was also pivotal in establishing the first equine facilities at CSU including the cross country course and indoor arena. He lectures in equine science program at CSU.