The approach of a Charles Sturt University (CSU) academic to maths education for early childhood educators has been recognised in a national awards program.
Dr Amy MacDonald from the School of Education at CSU in Albury-Wodonga has received a Citation for Outstanding Contributions to Student Learning from the Federal Government's Office for Learning and Teaching.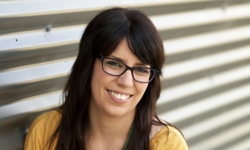 The lecturer in early childhood studies and member of the University's Research Institute for Professional Practice, Learning and Education (RIPPLE) was honoured for her 'approaches to mathematics education at a distance which inspire early childhood educators to engage with mathematics'.
Dr MacDonald developed developed two subjects for distance education Bachelor of Education (Birth to Five Years) students, with the subjects using videos, audio files and interactive games to engage students. She also received the CSU Faculty of Education Citation for Outstanding Contribution to Student Learning in 2013.
Dr MacDonald is one of four CSU academics to receive a Citation for Outstanding Contributions to Student Learning in 2014 including:
- Dr Valerie Ingham from the Australian Graduate School of Policing and Security at CSU in Bathurst
'For developing an integrated approach to postgraduate work-based research in Emergency Management, equipping students to contribute to workplace change through developing a policy or practice.'
- Ms Anne Llewellyn from the School of Communication and Creative Industries in Bathurst
'For innovative development and application of the Charles Sturt University marketing communications curriculum to prepare students for participation in real-world professional practice'.
- Associate Professor Wendy Nolan from the Centre for Indigenous Studies and Dr Barbara Hill from Division of Student Learning in Bathurst
'For leading respectful professional partnerships to implement a sustainable pedagogical framework for Indigenous Cultural Competency in Australian universities'.
Pro Vice-Chancellor Student Learning, Professor Sandra Wills said, "We are very proud of the citations that Charles Sturt University staff have been awarded. It is national confirmation of the quality of the educational experience that we provide".
Dr MacDonald received her Citation at a presentation ceremony in Sydney on Tuesday 16 September.