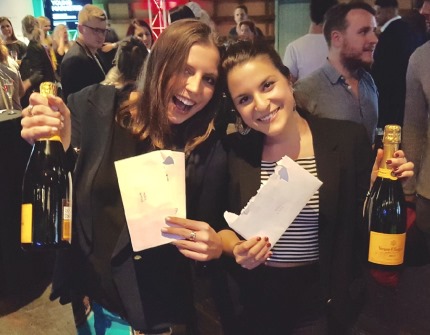 Two Charles Sturt University (CSU) graduates have won the Australian section of the 2017 Young Lions marketing communications competition.
Lecturer in advertising and advertising discipline leader in the CSU School of Communication and Creative Industries in Bathurst, Ms Anne Llewellynn, said Ms Charlotte Berry and Ms Grace Espinoza (pictured, left and right respectively) will now go to Cannes in France to represent Australia in the Global Young Lions competition during the annual creativity festival.
Ms Espinoza is a strategy executive and Ms Berry is a partnerships executive both employed by the Sydney office of Universal McCann (UM), a global media and advertising agency.
"I couldn't be more proud of them," Ms Llewellynn said.
"Grace and Charlotte were stand-out students when they were members of the Charles Sturt University student advertising team Kajulu Blue which was crowned National Champions of the annual 2015 International Advertising Association 'Big Idea' marketing communications competition.
"Both women graduated from the University in 2015, Charlotte with a Bachelor of Communication (Advertising) and Grace with a Bachelor of Communication (Advertising)/ Bachelor of Business (Marketing).
"They will give their global peers a run for their money. Let's hope they follow in the footsteps of Chris Colter, a fellow graduate who took out not only the Australian title but also the Cannes Global Young Lions Gold Medal in 2015. Go CSU!"
The Australia competition winners were announced by News Corporation's Chief Marketing Officer, Mr Tony Phillips, at an awards ceremony on Wednesday 11 May. The winners were determined by a panel of over 80 industry judges from 18 shortlisted teams after being given a brief to devise and present within 24-hours, emulating the international competition format in Cannes.
The Cannes Lions Festival takes place from Saturday 17 to Saturday 24 June.